Houseboats Kerala
HouseboatsKerala.in is a total Kerala tourist information website for a traveler who wish to enjoy Kerala in India to its brim. We provide enchanting tourism experience in Kerala, the Gods own country, whether it be houseboat tourism, hill stations, beaches, wild life or backwaters. We have every bit of complete satisfaction for you. We are providing online houseboat tour booking and Kerala tour package booking facility. We have tie-ups with reputed indian tour operating agencies and Kerala tour operators to provide you an unhindered service for planning your tour, thus letting you free with a trouble free holidays or vacation or honeymoon tour in Kerala India. Yes, let your dreams come true...!!!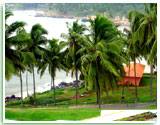 Kerala, truly called as the Gods own country is located at the southern part of the Indian peninsula. This land of greenery, Kerala is one among the top tourist locations around the globe by virtue of its climate, geographical specialties and above all, the people with a high level of hospitality. The climate here in Kerala is serene and the air is soothing. The land, Kerala is famous for many things like inland back water cruises, kathakali, the classical dance drama, Koodiyattom, Kalaripayattu, the martial arts and its varied cultural heritage and tradition.
The most important attraction for a tourist visiting Kerala is obviously, the inland water-ways, lakes, lagoons etc. All these lakes are navigable and a houseboat or boat house journey through this lakes is a memorable experience. One can enjoy the beauty of the greenery on both sides in Kerala with paddy fields and other, feasts for your eyes while on a cruise in the houseboat (kettuvallam). The Kerala house boats (kettuvallams) are also made in the traditional Kerala style architecture and a houseboat journey is going to remain in your memory for the rest of your life.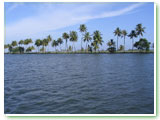 Kumarakom, Alappuzha ( Alleppey ), Cochin ( Kochi ), Kottayam and Kollam are the main backwater destination for any tourist looking for a house boat cruise in Kerala India. The Kerala backwaters here is very cam and inviting. The journey through vembanadu lake, the biggest of the lakes in Kerala is undoubtedly a magestic experience. The boat houses cruise includes food being served in the houseboat itself. Special Indian Kerala dishes, Kerala recipes and Kerala cuisines which are famous for its spicy flavor is yet another tourist attraction.
Kerala is also gifted with a a long stretch of beach and a chain of hilly highranges which offers additional tourist attractions with little concern regarding logistics, as all these locations are within easily navigable distance.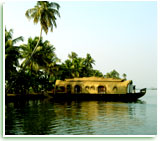 Kerala is now famous all over the world for its tourism potentials. The foremost of the Kerala tourism is the Kerala backwater tourism. Backwater cruises provides an excellent opportunity for enjoying the beauty of Kerala. Kumarakom, Alappuzha ( alleppey ), Kottayam, Cochin and Kollam are the most important centres in Kerala for enjoying backwaters tourism. Houseboat cruises are operating to provide a charming journey through the length and bredth of the backwaters of Kerala. The tourists can also hire a houseboat for per day rentals. With the increase in number of tourists, the houseboat has now become an unavoidable part of tourism in Kerala.
Online Houseboat Reservation